OrgaLED® Controllers & Dimmers
The OrgaLED® System can be controlled easily with OrgaLED® Controllers and Dimmers. Whether you want to install the OrgaLED®System in a public area, a private residence or a large theatre, there is a OrgaLED® solution for every environment.
The OrgaLED® System is completed with the OrgaLED® Accessories. By offering a complete range of 'Plug & Play' products, the OrgaLED® System is user friendly and easy to compose for your project. In this category, you'll find all required products which are needed when installing and connecting the OrgaLED® LED strips and OrgaLED® lighting fixtures.
Dimmable LED Driver (DMX Controller)
LINEARdrive DC is a constant voltage LED driver with multiple LED outputs that are controlled over four channels. It is targeted at larger networked and smaller standalone installations that require dimmable, low-power full-color static or dynamic LED lighting.
LINEARdrive DC is DALI, DMX/RDM, LedSync and 0-10V compatible.
| Image | Description | Wattage | Part Number |
| --- | --- | --- | --- |
| | LINEARdrive DC, 100W, DMX/DALI/0-10V, 4 control channels, constant voltage, 4x LED outputs | 100W | 011343 |
| | LINEARdrive DC, 180W, DMX/DALI/0-10V, 4 control channels, constant voltage, 4x LED outputs | 180W | 011344 |
| | LINEARdrive DC, 720W, DMX/DALI/0-10V, 4 control channels, constant voltage, 4x LED outputs | 720W | 011345 |
DMX Control Keypad DE3
The feature rich lighting controller has been designed to provide a control solution for the most demanding of projects, whilst maintaining an easy to use panel of touch sensitive buttons. The controller integrates a graphical color screen allowing scene photos to be displayed. Easily view the selected zone, scene name and design without the need to navigate through complex menus. Change the speed, color and dimmer using the circular palette. The lighting levels, color and effects can be programmed from a PC, Mac, Android, iPad or iPhone using the included software.
| Image/Specs | Description | Part Number |
| --- | --- | --- |
| | DMX Control Touch Keypad DE3 | 011410 |
| | RJ45 to connector block converter for power+DMX | RJ2BLOCK |
| | 6-7v AC/DC Power Supply | POWER4M |
| Spec Sheet | | |
Features
Input voltage: 5-24VDC
Input: DMX512 signal & RF (Customized)
Output: SPI signal
Working temperature: -22°F~131°F
IP20
Dimension: L4.5xW1.9x H2.6in
Weight: 3.6oz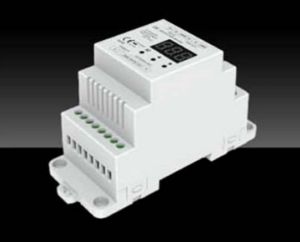 Compatible with Aqueon Diffuse RGB Dynamic and works under various modes.
DMX mode, it can work as DMX decoder with standard DMXS12 compliant interface, DMX address can be set easily and shown on the digital numeric display.
Stand-alone mode, it can work as SPI controller, have 32 kinds dynamic mode, adjustable speed and brightness.
RF mode, it matches with our RGB remoter, it also can be controlled by mobile phone through WiFi-Relay controller.
Features
Built-in LCD screen
Built-in perpetual calendar, real time display system clock, can be set up to play different programs anytime or holiday
Max combined 540 lighting effects
Multilevel changing speed, brightness, RGB gray scale adjustment. effect of movement direction, etc.
Supports 2 output ports: green terminals and signal & power combination terminal.
Support third-party DMX512 interface
5 year warranty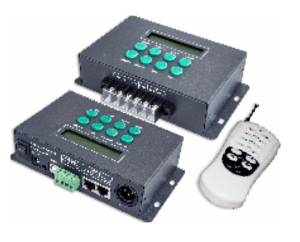 LT-200 controls LED with the following compatible ICs : LPD6803, LPD1101, D705, UCS6909, UCS6912, LPD8803, LPD8806, TM1804,
TM1809, TM1812, UCS1903, UCS1909, UCS1912, UCS2903, TLS3001, TLS3002, Ws2801, WS2803, WS2811,WS2812, P9813.
Supporting international standard Protocol DMX512/1990 interface, with DMX administration mode to invoke the built-in functions for
choosing mode, speed, brightness, types and direction changing. by DMX512 console. Furthermore, it has the DMX decoder mode,
customers could use DMX512 console to program &control every channel of the LEDs with the compatible ICs listed above. (0-100%
dimming range, program any lighting effect required) Built-in LCD operator display, powerful but simple easy to use.
Two ways to adjust modes, speed & brightness either by RF remote or controller itself. Auto timing. Max 540 modes selection.